The 4 Best Cards Against Humanity Baby Shower Games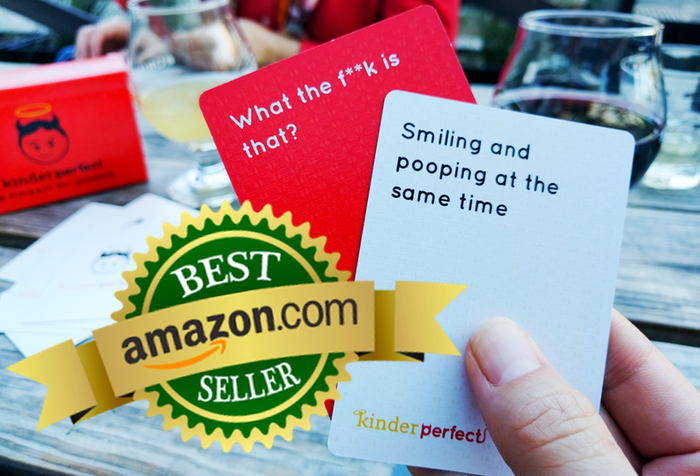 Do you want to play Cards Against Humanity at your next baby shower? Or better yet, something like a Cards Against Pregnancy – a CAH-style game that will make the mom-to-be pee her pants? Then here are 4 cool baby shower games just like Cards Against Humanity.
Quick! Download the KinderPerfect PDF and start playing today!
Baby Shower Themed Cards Against Humanity Games
Rock up to your next baby shower with one of these card games you're guaranteed to be that cool friend who knows just what everyone needs to laugh at the insanity that is pregnancy and raising children in the modern family.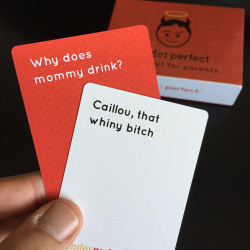 KinderPerfect
Okay, we are totally biased, but we think KinderPerfect is the best game to play at your baby shower. With every single card crowdsourced from actual parents, it's a hilarious voyage of discovery for parents-to-be!  Everyone will be screaming with delight or derision as they answer questions like:
Before kids, I never thought about _______.
Why is daddy in time out again?
Signs that you are THAT family.
Why does mommy drink?
Get KinderPerfect on Amazon to surprise expecting moms and new parents with tales of poop, puke, and Caillou – the triptych of modern parental terror.
Need cards right now? Download our print-at-home PDF and you can be playing KinderPerfect within the hour.
Cads About Maternity
From our friends at Cads About Matrimony comes a new but equally repugnant card game for bad mommies: Cads About Maternity.
Made for irresponsible new parents with dark, dirty minds, Cads About Maternity will prepare you for the most revolting, amazing, exhausting adventure of your adult life. The results of this Cards Against Humanity-type game are as joyful and disgusting as parenthood itself.
Babies Against Parenthood
Designed by Amanda Hearn at The Eco Friendly Family, the free-to-download Babies Against Parenthood is a funny, multiplayer party game.
This version for baby showers is more PG that Cards Against Humanity, but thankfully that's open to interpretation.
Best of all, for last-minute baby shower gift givers, you can download the PDF and print out cards the day of your event.
Jumbo Cards Against Pregnancy
If you are really crafty, you can try the large-scale game of Cards Against Humanity featured in Offbeat Home & Life.
They illustrated the following seven steps for their game, but you'll need to re-create all their artwork, as they sadly didn't share their templates (boo!).
Create large, themed, prompt cards
Create your own answer cards
Ask guests to write their name on their answers
Glue the prompt cards to envelopes and mount them on a wall
Have guests slide their answers into the corresponding prompt card envelope
Read the hilarious answers out loud
Cry from laughing so hard, and have the best baby shower ever.
If all that sounds like too much work for you (it does for us!) we again recommend taking the easy route and just buying KinderPerfect on Amazon.
Posted in News and tagged Baby Shower Games, Cards Against Humanity