5 Fun Safe-For-Work Cards Against Humanity Expansion Pack Games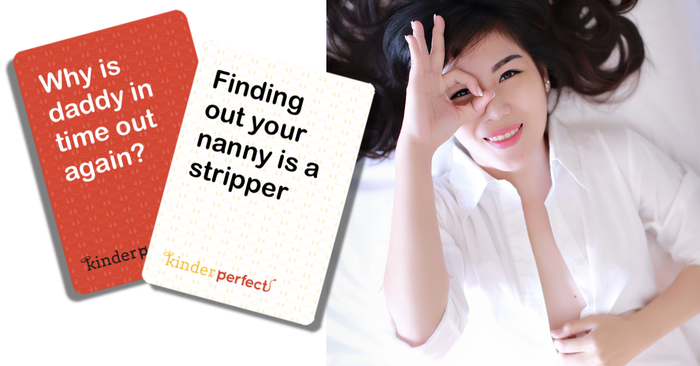 5 Safe-for-Work CAH Expansion Pack Games
Are you brave enough to play Cards Against Humanity at work? Was Human Resources notified the next day – or even during game play – when very NSFW questions were asked and even worse answers were said out loud?
If you love CAH and want to play it at work, be warned. Seven staff members of WTOL-TV in Ohio, got a quick separation of employment after engaging in a New Years Eve game of CAH.
After that quick lesson learned about playing Cards Against Humanity with co-workers, we need clean CAH versions of the card game for horrible people so we can keep our jobs and our sense of humor.
Hence this list of 5 hilarious safe-for-work Cards Against Humanity expansion pack games to play at your offices or on your company retreat.
KinderPerfect Parents Party Card Game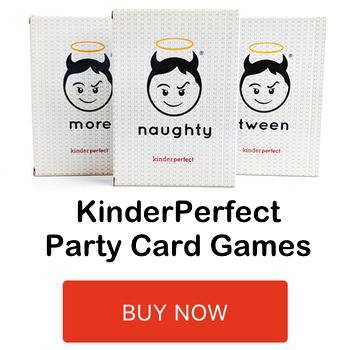 Okay, we are totally biased, but we think KinderPerfect is the best Cards Against Humanity expansion pack. With 400 crowdsourced cards from actual parents, it's a hilarious voyage of discovery for moms, dads, grandparents, and all those in between!
Everyone will be screaming with delight or derision as they answer questions like:
No one warned me about _______.
Why is daddy in time out again?
Science will never explain _____.
Why does mommy drink?
Get KinderPerfect on Amazon to surprise new parents with tales of poop, puke, and Caillou – the triptych of modern parental terror.
Need cards right now? Download our print-at-home PDF!
You Think You Know Me
Do you think you know your friends? You've been friends for years, but You Think You Know Me card game will bring forth everyone's deep dark secrets in a fun, playful way that avoids the crassness of CAH.
Each card in You Think You Know Me has a different starting statement to get your girlfriends talking about everything from grocery shopping in your pajamas to how much you really love your spouse and children.
JadedAid
JadedAid is a new card game for world-weary development workers to be the cynicism they want to see in the world.
Their idea is simple: take the everyday frustrations of working for the Development Industrial Complex (the DIC) and turn them into a prescription for fun! JadedAid incorporates cross-cutting themes like paternalism, chauvinism, and elitism to illuminate the inherent discrimination and dissonance in international development.
JadedAid should be played with copious indigenous alcohol and really good friends. Best if at least one donor is marginalized afterwards.
Cards Against Urbanity
Cards Against Urbanity is the card game for horrible places. It replaces all the cards in a Cards Against Humanity deck with jokes by and about urbanists. The cards are less offensive than CAH, but definitely irreverent.
Cards Against Urbanity players can create sentences like "Architects should really pay more attention to _______", filling in the blank with "a blue-haired amateur historian," "Mr. Monorail," or "Peak beard."
That's What She Said
This party game of twisted innuendos is a party in a box, perfect for your next work-related get-together. Fast paced and hilarious on every turn, That's What She Said is as dirty as your mind wants it to be.
That's What She Said is designed for four or more players, so make sure you have enough co-workers to play this at the bar or the next company retreat.
Posted in News and tagged Adult Game Night, Cards Against Humanity, Christmas Gifts