A Toddler Drinking From a Plunger – KinderPerfect Card Stories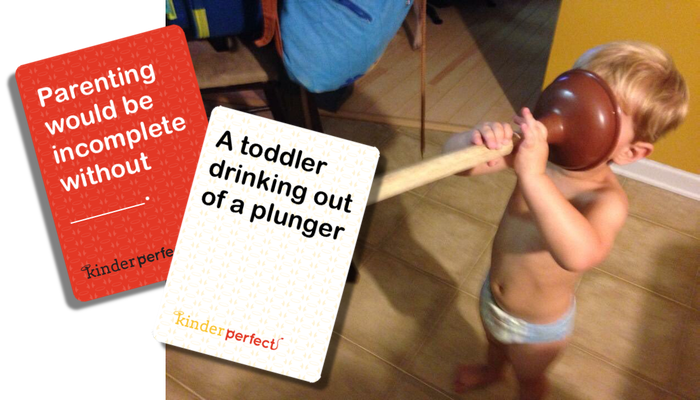 Silence. That's what I remember the most. An eerie silence in the house.
This was not normal. Not when you have two crazy daughters who are always either playing, fighting, or just yelling – all at full volume. Our house is never quiet when my two daughters are awake.
So when I heard silence, I knew something was happening. Time to investigate!
At first, I couldn't find either girl, and they were not answering my calls. Getting scared, I started dashing from room to room looking for them. Then I found them. The oldest daughter was watching her sister with rapt attention.
Why? The youngest daughter was drinking from a plunger.
Yes, she had the rim of the toilet bowl plunger up to her lips as she tried to sip water from the upturned end. Yelling for her to stop, I gave her such a fright that she dropped the plunger, got soaked with water, and started to cry. Her sister started to laugh. And I became evil dad.
How could I scare her, my youngest screamed.
How could I interrupt their game? Stop their fun? Keep them from seeing who could drink the most water from a dirty toilet bowl plunger? Yes, I was evil, mean, and the worst daddy ever for stopping them mid-game.
As a parent, I think you can relate.
How many times? How many ways? Still, day after day, they surprise us with their crazy ways, and crazier ideas. Modern parenting is a true voyage of discovery – and we've all just started on the journey!
At least that awkward moment inspired a hilarious card game – KinderPerfect! And now you can buy three new expansion packs to keep the laughter going on adult game night.
You can also buy all three expansion card packs directly from us for 66% Off and Free 2-Day Shipping!
Posted in News and tagged Adult Game Night, Card Stories, Family Friendly, Family Reunions