3 New Cards Against Humanity Games for Elementary School Teachers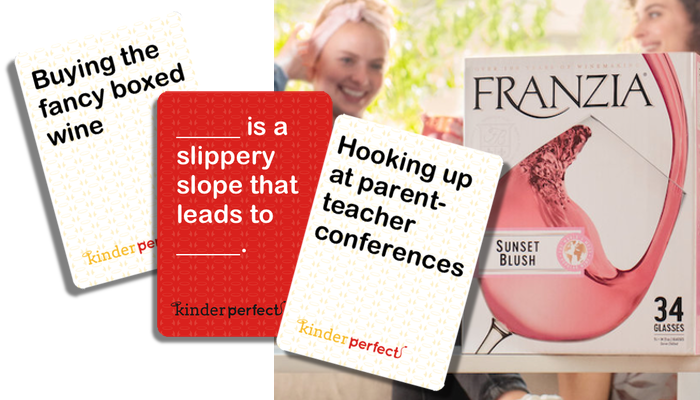 Kindergarten and elementary school teachers are amazing people. They care and educate our screaming bratty kids all day for a pittance, and then start the next day with smile as we hand off our kids to them again. Wow!
Now what can you get for teacher appreciation day that they will like? Something fun, yet also clean – these are teachers after all! We looked around for just the right gift idea and here's what we found:
Cards Against Humanity Games for Teachers
Why yes, we do love Cards Against Humanity – its the perfect mix of funny and raunchy for adult game nights. However, we don't think its the right thing to give a kindergarten or elementary school teacher.
Yes, teachers can have fun too, and we're sure many of them have played Cards Against Humanity-type games, We just don't think that's a good gift. Better they buy it for them themselves than get it from one of their kids' parents.
1. KinderPerfect: For Teachers and Parents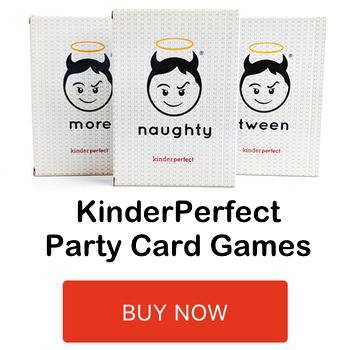 Call us biased (because we are), but we think that KinderPerfect is the best gift for teachers. It's just the right mix of hilarious questions and edgy answers that will keep the teacher in your life laughing all night long.
Don't take our word for it – read this review from one of our satisfied customers who wrote in to tell us how much they love playing KinderPerfect with their teacher friends:
I was a nanny for almost 20 years and now I work at a preschool. I originally bought KinderPerfect as a baby shower gift, then we had so much fun, I got one for myself and play it with the teachers at staff meetings. Thank y'all for the fun and laughter!
Grab your Cards Against Humanity for Parents game now! You can buy KinderPerfect on Amazon or directly from us – and get free shipping to USA addresses.
In a hurry? Download our print-at-home PDF right now – to play KinderPerfect tonight!
2. Teacher Life: For Printing at Home
Teacher Life is a free print-at-home PDF of 90 question cards and 385 answer cards exploring the joys and challenges of teaching modern students.
Created by WeAreTeachers, they claim that Teacher Life is more fun than giving your child's teacher another coffee mug, scented lotion, or funky candle. We agree! Hilarious card games to play on adult game night are always a hit with every kind of caregiver.
3. Not Parent Approved: For the Children
Sometimes you want to give a kindergarten or elementary school teacher a gift she can use in the classroom. If that's the case, then please consider getting them Not Parent Approved. This fun game is Cards Against Humanity for kids that helps them learn to read as they play.
This inappropriately appropriate game for mischief makers has children laughing out loud as they put booger juice, vampire bunnies and grandma in the same sentence.
Best of all, it will keep the kids occupied while the teacher takes a moment to send you a thank you note for considering them in your gift giving – as you should!
Posted in News and tagged Amazon, Cards Against Humanity, Expansion Pack, Teachers