KinderPerfect is Cards Against Humanity – for Parents!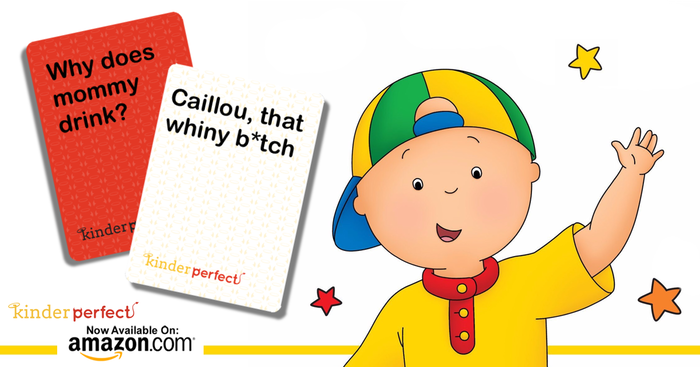 We designed KinderPerfect to be the Cards Against Humanity for parents that you've been dreaming of playing this Christmas. Like every parent, we love our kids, but they can drive us crazy. It's their antics, and those of other children, that inspired us to make KinderPerfect.
Why We Made KinderPerfect Like Cards Against Humanity
Parenting is tough. You don't get an instruction manual when you leave the hospital with your newborn, yet everyone you meet has an opinion of what you are doing wrong or should be doing differently. Worse, it's usually your parents.
We want KinderPerfect to be safe place for parents to laugh at the pain of parenting, and allow them to discuss the real challenges of raising kids. That's why we took the basic game play of Cards Against Humanity (and Apples to Apples before it) and adapted for the Millennial parenting experience – from the baby shower onwards.
For example, our kids had us read "Brown bear, brown bear what do you see?" until we memorized all the pages in that set of books, and started making up our own animals for it to see. And what parent doesn't have a half-assed drawing taped to their refrigerator?
Another one of friend's daughter was always sucking on the ear of a stuffed animal for over a year, only taking it out of her month to eat. She wouldn't allow her mom to wash it either. That inspired the card, "No, don't put ____ in your mouth!" And the potential answer card, "Another damn stuffed animal."
Why KinderPerfect Is Like Cards Against Humanity for Parents
Our aim is to take the everyday pain of parenthood and make it into an excuse for mommy juice!
The rules for KinderPerfect are pretty easy. We believe that all work and no play makes mommy hide in a locked closet with chocolate, so we wanted a fun, fast game without complex rules or a million stupid plastic pieces you have to set up. We're parents and we don't have time for that.
The "Parent" player will read out a red Question Card and other players will submit their white Answer Cards. The Parent picks the winner they like the best, well, because they said so. The winner then becomes the Parent for the next round. You win by amassing useless Answer Cards, just like in real life!
KinderPerfect plays well with other games, like Cards Against Humanity and Apples to Apples, but it's also great to play on its own. We have 400 casino-quality cards that will integrate seamlessly with other games and last stain-free longer than a baby onesie.
Amazon Reviewers Agree: KinderPerfect is Cards Against Humanity for Parents
We are excited that KinderPerfect is popular with parents – we are now a Top 100 Card Game on Amazon. Yet we are always humbled when we get a great Amazon review that reveals how our cards speak to parents.
We now have over 130 reviews on Amazon, and the vast majority of them are 5-star reviews. Some are short, just one sentence, but other reviews are long on detail and love that warm our hearts. Almost all of them compare KinderPerfect favorably with Cards Against Humanity.
Just read this great 5-star review by Joette about how she enjoys KinderPerfect as a "Cards Against Humanity for parents".
"This is like Cards Against Humanity growing up and having kids."
I play KinderPerfect at our regular Mom's Night Out and OMG! it is too funny. Its as if Cards Against Humanity grew up and then had kids. The question and answer cards speak to me as a parent.
Poop or chocolate? – I ask this question daily.
Crying over spilled breast milk – yep, done that.
Beer cooler at the birthday party – Now that's an idea!
The cards were crowdsourced from actual parents. I know because "a crowning selfie" was my suggestion. And yes, cards like that (actually pretty much every card) leads into a funny conversation when you are playing with friends, or some awkward ones if you are playing with family.
It was an interesting voyage of discovery playing this at a family reunion!
The cards themselves are the exact same size at Cards Against Humanity cards, so you can add them to your deck as another expansion pack, but I intend on playing it as its own game.
I like how its not as potty-mouthed as CAH so we can play with little ones running around underfoot. Only the parents will get answers to questions like "How we got your little brother?" or "Why is daddy in time out again?".
Posted in News and tagged Cards Against Humanity