Best Cards Against Maternity Party Game for New Moms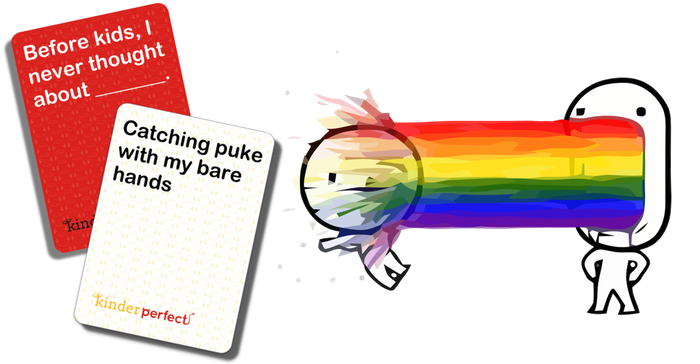 Are you looking for a new "Cards Against Maternity" game to play with your fellow parent friends? Need a fun gift for an expecting new mom's pregnancy announcement party? Or looking for a better Apples to Apples or Mad Libs for your next baby shower game?
Then check out KinderPerfect – its like Cards Against Humanity, but specially designed for parents!
We created the KinderPefect Parents Party Card Game and all three expansion packs as a sleep-deprived, diaper-changing mom and dad duo who wanted an excuse to drink heavily to be better parents.
We loved playing Cards Against Humanity but we felt the cards didn't really speak to our experience as parents. What are the true reasons why Mommy drinks? We're going with puke, pee, and Calliou, the triple threat of modern parenting.
Cards Against Maternity Amazon Reviews
Don't just take our word for it. Here are four awesome reviews from satisfied Amazon customers who love playing our "Cards Against Maternity" party game for new moms. Listen to their love for KinderPerfect in their own words:
Best Cards Against Maternity!
MN_Phil – Verified Purchase 5 Star Review
What a blast of a game. Playing with other parents made this game the greatest because we all get #parentinglife. This is a complete pee your pants enjoy the laughs game. There's swearing and inappropriate things. Definitely only made for parents who get it. Not for kids.
Hilarious Game for Parents!
Jayess – Verified Purchase 5 Star Review
I got this for our family to play when they came over for Thanksgiving. Almost all of us are parents. These cards were absolutely right on with all the hilarious, weird, gross, laughably accurate parent-child fiascos that can happen.
So much laughter; I was able to tell my daughter, "you did exactly this when you were little!" I literally couldn't speak a few times for laughing. 100% Cards Against Maternity success!
Awesome for Mom's Nights Out
Caitlyn – Verified Purchase 5 Star Review
I love this game! It's perfect for mom's nights, play dates and any other get together! The cards can be scary relevant to your life as a parent which just makes everyone laugh until they're crying!! I've played this with my parent friends and my non parents friends. The friends who are parents would be spitting out drinks and rolling on the floor!
This game is so perfect for any parent but as a new parent myself (I've got a six month old), a good majority of the cards have a "reality" for parents with young kids! And this isn't a game that only moms will enjoy and get into. My husband and his dad friends like this too!
Perfect Fun for Adult Game Night!
Chelsea – Verified Purchase 5 Star Review
So much fun! There were many rounds I felt personally attacked by how accurate they were! Lol! Totally relatable at any stage of parenting. Love the level of "inappropriateness" is never to an uncomfortable one.
You could play this with new friends and not be concerned you "went too far" with hour answers. I also love having the "alternate rules" option. That got used tonight thanks to a Shopkins card. 🙂 Definitely will be adding more to the set.
Awesome Game for Baby Shower!
Jen F – Verified Purchase 5 Star Review
We played this game at a friend's baby shower and it made the day! With traditional shower games off limits, we were excited to find something funny that didn't involve smelling melted chocolate in diapers!
We broke out into teams and the mama to be chose her favorite responses. It was so much fun and got family and friend groups who didn't know each other chatting and laughing right from the start.
Posted in News and tagged Adult Game Night, Baby Shower Games, Moms Night Out