5 Hilarious Adult Party Card Games for Moms Night Out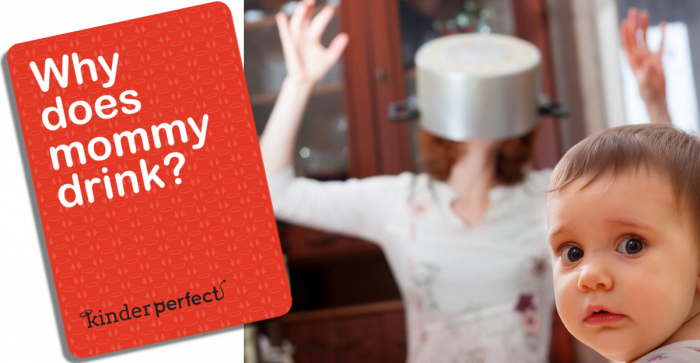 Yeah! It's time for Moms Night Out, when you get together with your girlfriends and get out of the house – without the kids! Leave the little ones home with daddy or better yet, ship them off to grandma.
Yet, what to do? You've already played Cards Against Humanity too many times, or found it just too crass for your friends. What card games can you play at adult game night that will be fast, fun, and pair perfectly with too much wine?
The Best Moms Night Out Card Games
Here are five ideas from our extensive drinking testing with our mom friends over the past few years of monthly Moms Night Out with a dozen moms in Washington, DC and now Chapel Hill, NC. Need more ideas? Here is our full list of fun Moms Night Out games.
KinderPerfect Party Card Game for Moms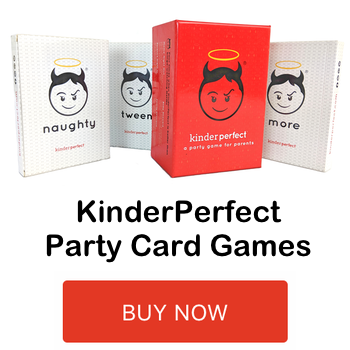 Okay, we are totally biased, but we think KinderPerfect is the best Cards Against Humanity-inspired card game for Moms' Night Out (or in). We crowdsourced every single card from actual parents to create a hilarious voyage of discovery for moms and their friends.
Your girlfriends will be screaming with delight as they answer questions like:
Why does mommy drink?
Why is daddy in time out again?
Signs that you are THAT family.
Before kids, I never thought about ______.
Get KinderPerfect on Amazon to surprise new parents with tales of poop, puke, and Caillou. And yes, everyone hates Caillou, that whiny bitch! Just do keep KinderPerfect out of the reach of children. Its an adult party card game.
Oh and do you need to get your game on right now? Download our print-at-home PDF!
Do You Know Me
Do you think you know your friends? You've been friends for years, but You Think You Know Me card game will bring forth everyone's deep dark secrets in a fun, playful way that avoids the crassness of CAH.
Each card in You Think You Know Me has a different starting statement to get your girlfriends talking about everything from grocery shopping in your pajamas to how much you really love your spouse and children.
Cads About Matrimony
If you have single moms or newlyweds in your group, then Cads About Matrimony is guaranteed to make them cringe at the most revolting, amazing, exhausting adventure of your adult life: marriage.
Made for irresponsible lovers with dark, dirty minds, Cads About Matrimony is a classic wedding party game for terrible people. Don't be fooled by the handsome box – this game certainty isn't safe for work parties.
That's What She Said
This party game of twisted innuendos is a party in a box, perfect for your next moms get-together. Fast paced and hilarious on every turn, That's What She Said is as dirty as your mind wants it to be.
That's What She Said is designed for four or more players, so make sure your Moms Night Out crew has enough people to play this at the bar or better yeat, at home, with daddy down in the basement with the kids.
TableTopics: Not Your Mom's Dinner Party
Like the game 20 questions, but for adult game nights, TableTopics: Not Your Mom's Dinner Party is a provocative conversation starter that will spice up the discussion and get you and your closest friends laughing the night away.
TableTopics questions are great for the Moms' Night Out hostess to ask guests as an ice-breaker to get everyone going. The questions are a little bit racy and a whole lot of fun.
Buy Moms Night Out Games on Amazon
Don't waste another night listening to Susan complain about her husband or Jody talk about work. Shake things up with a fun game night that will have your girlfriends howling with laughter.
You can buy these games on Amazon where we've made a list of all the best Moms Night Out card game to rock your next adult game night.
Posted in News and tagged Amazon, Millennial Moms, Moms Night Out