Best Valentine's Day Present for Cards Against Humanity Moms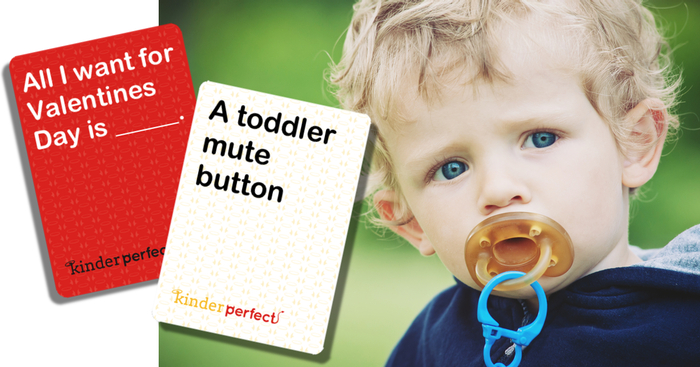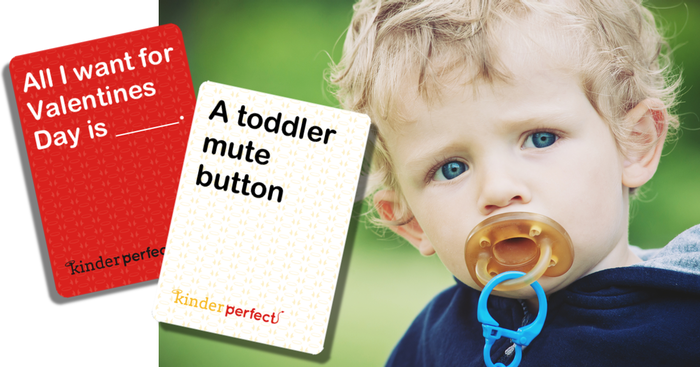 Are you looking for a good Valentine's Day present for a mom who loves Cards Against Humanity? A "Cards Against Cupid" party card game that will have her laughing at modern parenting? Then we have a great Valentines Day gift idea for you!
KinderPerfect is the best Valentine's Day present for Cards Against Humanity moms.
We created KinderPerfect because we always enjoyed playing Cards Against Humanity with our friends, but we didn't feel like it spoke to our experience as parents. KinderPerfect is just like the infamous party game itself, but specially designed for moms and dads.
Need cards right now? Download our print-at-home PDF!
All I Want for Valentine's Day is a Toddler Mute Button
KinderPerfect is a great way to surprise expecting moms and new parents on Valentine's Day with tales of poop, puke, and Caillou, the triple threat for every mother. With 400 crowdsourced cards from actual parents, KinderPerfect a hilarious Valentine's Day voyage of discovery for everyone!
First, grab a few good friends and send the kids to grandma's house or better yet, grab an Urban Sitter gift card for a babysitter to watch everyone's kids at one house and then head to another.
Next, add KinderPerfect to a few bottles of wine with good friends for a fun night answering questions cards like:
Brown bear, brown bear, what do you see?
Our code name for sex is ______.
Pregnancy: the end of ______ and the start of ______.
Why we are banned from Disneyland.
Moms and Dads can play hilarious answer cards in response, like:
A finger-waving, hip-swaying 6-year-old princess
Beer cooler at the birthday party
Parental advice from childless friends
Stripping to "Let it Go"
You can buy KinderPerfect directly from us and get FREE shipping to anywhere in the USA! Our new "Cards Against Humanity for parents" game also ships globally, including Canada, Australia, New Zealand, Europe, and the UK.
A Valentine's Day party playing a game like Cards Against Humanity that's designed for parents will be a night to remember for moms, dads, grandparents, and all caregivers in between!
Get 66% Off Our Expansion Packs
Now you can buy three new expansion packs to keep the laughter going on Valentines Day game night. You can get 66% Off when you buy them with Amazon Prime. The three expansion packs are:
You can also buy all three expansion card packs directly from us for 66% Off and Free 2-Day Shipping!
Posted in News and tagged Adult Game Night, Cards Against Humanity, KinderPerfect, Valentines Day