KinderPerfect is Now in USA and Canada Retail Stores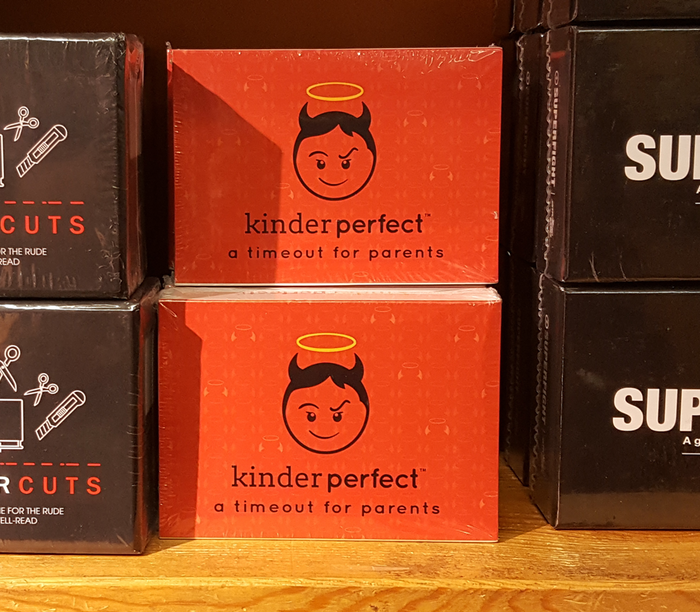 KinderPerfect is now available at select retail stores in the USA and Canada!
We are proud to be featured in independent book stores, like the famous Powell Books in Portland, OR, and game stores like Loadza Toys in Kelowna, BC. See our growing list down below.
If you want your favorite store to stock KinderPerfect, please ask them to email us, and we'll aim to make it happen.
Worldwide Availability
KinderPerfect can be ordered from Amazon.com or Amazon.ca with free 2-day shipping (for Prime members), Amazon.co.uk for delivery in the UK and across Europe, and eBay for worldwide shipping.
Moms and dads everywhere will enjoy KinderPerfect – the adult party card game for parents, inspired by Cards Against Humanity.
UNITED STATES RETAIL STORES
CALIFORNIA
MR G'S FOR TOYS
28200 HIGHWAY 189
C-220
LAKE ARROWHEAD, CA
92352
MR G'S FOR TOYS
180 N PALM CANYON DRIVE
PALM SPRINGS, CA
92262
GAMES OF BERKELEY
2510 DURANT AVE
BERKELEY, CA
94704
COLORADO
GRANDRABBITS TOYS
2525 ARAPAHOE DR
BOULDER, CO
80302
DELAWARE
RHODES 5 & 10
118 GARFIELD PKWY
BETHANY BEACH, DE
19930
ILLINOIS
GAMER'S WORLD
F113 WOODFIELD SHOPPING CENTER
SCHAUMBURG, IL
60173
ANDERSON'S BOOKSHOP
123 W. JEFFERSON AVE
NAPERVILLE, IL
60540
INDIANA
HOBBYTOWN INDIANAPOLIS SOUTH
4850 E SOUTHPORT ROAD
SUITE Q
INDIANAPOLIS SOUTH, IN
46237
KANSAS
THE TOY STORE
936 MASSACHUSETTS STREET
LAWRENCE, KS
66044
MASSACHUSSETTS
PUZZLE ME THIS
290 COMMERCIAL ST
PROVINCETOWN, MA
02657
THE SUNKEN SHIP
12 BROAD ST
NANTUCKET, MA
02554
MICHIGAN
WEATHERWAX DRUGS
8102 SPRING ARBOR ROAD
SPRING ARBOR, MI
49283
MODERN NATURAL BABY
200 W 9 MILE ROAD
SUITE B
FERNDALE, MI
48220
MINNESOTA
GENERAL STORE OF MINNETONKA
14401 HIGHWAY 7
MINNETONKA, MN
55305
GAMES BY JAMES
358 E BROADWAY
MALL OF AMERICA
BLOOMINGTON, MN
55425
GAMES BY JAMES
2510 SOUTHDALE CENTER
EDINA, MN
55435
GAMES BY JAMES
1032 BURNSVILLE CENTER
BURNSVILLE, MN
55306
GAMES BY JAMES
4800 GOLF ROAD
UNIT 714
EAU CLAIRE, MN
54701
GAMES BY JAMES
327 ROSEDALE CENTER
UNIT #135
ROSEVILLE, MN
55113
GAMES BY JAMES
4101 WEST DIVISION STREET
UNIT B35
SAINT CLOUD, MN
56301
GAMES BY JAMES
1245 WAYZATA BLVD
MINNETONKA, MN
55305
NEW YORK
COMPLEAT STRATEGIST
11 E33RD ST
NEW YORK, NY
10016
RAFF & FRIENDS
4545 TRANSIT ROAD
EASTERN HILLS MALL
WILLIAMSVILLE, NY
14221
OREGON
GUARDIAN GAMES
345 SE TAYLOR ST
PORTLAND, OR
97214
POWELLS BOOKS
1005 W BURNSIDE STREET
PORTLAND, OR
97209
POWELLS BOOKS
3415 SW CEDAR HILLS CROSSING
BEAVERTON, OR
97005
POWELLS BOOKS
3723 SE HAWTHORNE BLVD
PORTLAND, OR
97214
POWELLS BOOKS AT PDX
7000 NE AIRPORT WAY
SUITE 2250
PORTLAND, OR
97218
SOUTH DAKOTA
LEWIS FAMILY DRUG
VARIOUS LOCATIONS
SIOUX FALLS, ID
ELEGANT MOMMY
207 WEST 37TH STREET
SIOUX FALLS, ID
57105
WASHINGTON
JACK'S COUNTY STORE
26006 VERNON AVE
OCEAN PARK, WA
98640
BLUE HIGHWAY GAMES
2203 QUEEN ANNE AVE N.
SEATTLE, WA
98109
HOOKED ON TOYS
1444 N WENATCHEE AVENUE
WENATCHEE, WA
98801
CANADA RETAIL STORES
ALBERTA
HI JINX
712B MAIN STREET
CANMORE, AB
T1W 2B6
COMEX HOBBIES
#1778 WEST EDMONTON MALL
8882 170TH STREET
EDMONTON, AB
T5T 4J2
SECRET ORIGINS GAMES
5660 10 STREET N.E
CALGARY, AB
T2E 8W7
SUNSHINE VIDEO
5105 50TH AVE
ST PAUL, AB
T0A 3A0
RIVER CITY GAMES
109 ST PRINCESS ELIZABETH AVE
SUITE 663
KINGSWAY GARDEN MALL
EDMONTON, AB
T5G 3A6
LAKELAND VARIETY BONNYVILLE
5108 50TH AVE
BONNYVILLE, AB
T9N 2H3
PIPS BOARD GAME CAFÉ
2015 33RD AVE SW
CALGARY, AB
T2T 1Z5
ARKANE ANGEL
5510 50TH AVE
COLD LAKE, AB
T9M 1R4
BRITISH COLUMBIA
K-MAX GAMES & VIDEOS
326 REID STREET
QUESNEL, BC
V2J 2M4
MAIN STREET FUN & GAMES
1225 7TH AVENUE
INVERMERE, BC
V0A 1K0
TUMBLEWEED TOYS
1201A SUMMIT DRIVE
KAMLOOPS, BC
V2C 6B8
LOADZA TOYS
1110 – 2271 HARVEY AVE
ORCHARD PARK SHOPPING CENTRE
KELOWNA, BC
V1Y 2H6
KIT AND KABOODLE EMPORIUM
83A SECOND AVE S
WILLIAMS LAKE, BC
V2G 3W3
MANITOBA
GAME KNIGHT GAMES & COOL STUFF
726 OSBORNE STREET
WINNIPEG, MB
R3L 2C2
NOVA SCOTIA
GUARDIAN DRUGS
30 FARNHAM GATE ROAD
HALIFAX, NS
B3M 3W8
GUARDIAN DRUGS
535 LARRY UTECK BLVD
HALIFAX, NS
B4A 0E1
GUARDIAN DRUGS
2273 PROSPECT ROAD
HATCHET LAKE, NS
B3T 1S9
GUARDIAN DRUGS
1800 ST MARGARET'S BAY ROAD
TIMBERLEA, NS
B3T 1B8
GUARDIAN DRUGS
180 – 269 HIGHWAY 214
ELMSDALE, NS
B28 1K1
GUARDIAN DRUGS
205 HERRING COVE ROAD
HALIFAX, NS
B3J 1L2
GUARDIAN DRUGS
2815 MAIN STREET
SHUBENACADIE, NS
B0N 2H0
GUARDIAN DRUGS
49 RIVERSIDE AVE
STEWIACKE, NS
B0N 2J0
ONTARIO
STEDMANS V&S
32 HASTINGS ST. N.
BANCROFT, ON
K0L 1C0
THE DRAGON
55 WYNDHAM STREET NORTH
UNIT P12
GUELPH, ON
N1H 7T8
J.B. O BRIEN & SONS
16 FRONT STREET
CAMPBELLFORD, ON
K0L 1L0
WICKED STUFF
1500 RIVERSIDE DRIVE
TIMMINS, ON
P4R 1A1
FORSTER'S BOOK GARDEN
266 QUEEN STREET SOUTH
UNIT 2
BOLTON, ON
L7E 4T7
TOYS ON FIRE
130 RIOCAN AVENUE
UNIT 3
NEPEAN, ON
K2J 5G4
Posted in News and tagged KinderPerfect, Retail Stores